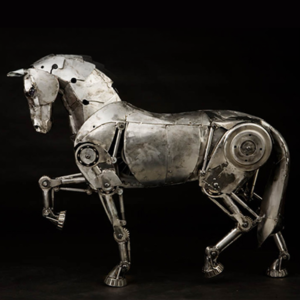 You don't have to be able to paint a watercolor landscape, shape a sculpture from clay, or compose a symphony to be a true artist.  Science and the arts have long been developing collaboratively, though their connection is not always evident. Both intrinsic qualities of creativity, integrating science and art can boost attention, cognition, working memory, and reading fluency.
Is your child a builder, an inventor, a dreamer? Then join Walking Mountains Science Center, in partnership with the John McConnell Math and Science Center of Western Colorado, on Saturday, March 18th from 2:00

pm to 4:00 pm for an afternoon of Artistic Engineering. Instructors will skillfully facilitate activities, experiments, and crafts that highlight how integral these concepts are in our lives and how one often functions best when accompanied by the other.
Children grades third through sixth grades will build fully functional Art Robots that will be able to make abstract art drawings.  This is not a drop off program – guardians are required to attend.
About our Partner:
John McConnell Math and Science Center of Western Colorado is a non-profit organization based in Grand Junction, CO. Their mission is to inspire a passion and respect for math and science in our communities. They fulfill their mission by providing hands-on experiments and interactive presentations that demonstrate math and science concepts to people of all ages.
IF YOU GO…
Date: Saturday March 18th
Time: 2:00pm-4:00pm
Where: Walking Mountains Science Center
How Much: $10/child. Registration is required, click here to register.
Questions: Please call 970.827.9725