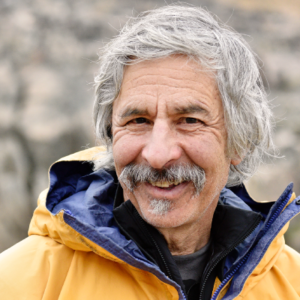 The 15th annual High Country Speaker Series concludes on April 17th when Walking Mountains Science Center welcomes back legendary explorer and environmental advocate Jon Turk to the Eagle Valley. Turk has done it all, from writing the first environmental science textbook in 1971 to paddling a kayak from Japan to Alaska or biking through the Gobi desert, the world of "walking meditation" is still where Jon lives.
Jon and colleague Erik Boomer were nominated by National Geographic in 2012 as "Top Ten Adventurers of the Year" in 2012 for their circumnavigation of Ellesmere Island in 2011. Crocodiles and Ice, Turk's 2016 book chronicles this sea kayak passage, but also reflects on his personal journey from suburban Connecticut into the deep wild. Crocodiles and Ice is a memoir of sorts, where the central character, Jon is this case, takes a physical and emotional journey, struggling to find a sane and compassionate home in a world that initially doesn't make sense. This journey could take place anywhere: in a prison cell, or a vegetable garden, and in Jon's case it takes place on a world stage, in prisons, oceans, mountains, and ice fields.
Turk's concept of the Deep Wild is based on a deep, reciprocal relationship with the Earth that has its roots in the philosophies of Arne Naess and the writings of Rachel Carson. Deep wild is a way of embracing our animal instincts "because beyond the wondrous and seductive opulence of our oil soaked, internet crazed, and consumer oriented society, the animal within can guide us through the forest to a glorious and sustainable lifestyle that is based on Deep Wild as a foundation of solace, sanity, compassion, and hope."
Join Walking Mountains and the Eagle Valley Library District for a dynamic evening of learning, adventuring, and introspection into our place in this wild world. As Thoreau put it in his call to live deliberately, Where I lived and What I Lived For, "We are enabled to apprehend at all what is sublime and noble only by the perpetual instilling and drenching of the reality that surrounds us. We can never have enough of nature."
What: Crocodiles and Ice: A Journey into Deep Wild with adventurer and Eagle Valley favorite Jon Turk
Where: Walking Mountains Science Center
When: Monday April 17th, 5:30
Cost: Free!
Click here to learn more about the High Country Speaker Series and past presenters.