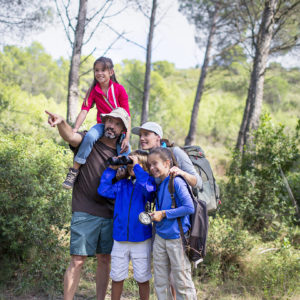 Starting June 10th Walking Mountains Science Center's summer programs will operate seven days a week from three locations in the Eagle Valley. Locals and visitors alike, from "pre-K to gray" athletes, bookworms and everyone in between has the chance to rescue summer from the indoors. With a wide variety of outdoor science-based programs for all ages, interests and abilities, Walking Mountains is here to make sure no one's summer is wasted lounging around inside. Click here to see the full line up of summer programs.
Walking Mountains Science Center, Avon
The programs out of Walking Mountains Science Center in Avon highlight the beautiful trails winding through the forest behind the campus. Enjoy the serene sound of Buck Creek during programs like daily Nature Walks, Morning Bird Walks, Bedtime Storywalk, and EarthKeepers pre-K program. Those interested in delving deep into a specific topic will enjoy the monthly Science Behind Series for adults. The science center also acts as the main hub for Walking Mountains' in-demand Summer Science Camps.
Vail Nature Center, Vail
Right across Gore Creek from the iconic Ford Amphitheater among the fields of flowers is the Vail Nature Center. Get the whole family together for nighttime programs and relax with Discovery at Dusk, stargaze with Stories in the Sky, and catch a glimpse of some native wildlife with Evening Beaver Pond Tours. Drop the kids off and let them explore nature with Think Like a Trout or Art in Nature while the parents do some adventuring at their own pace. The wildly popular Guided Backcountry Hiking program is offering new trails to explore this year, as well as an opportunity to join the Hiking Club to save big and go far. Determined families can explore the majesty of Colorado's public lands with the half-day hikes, and more experienced hikers can journey deep into the Colorado wilderness with full-day hikes.
Nature Discovery Center, Atop Vail Mountain
If you are looking for sprawling views of the White River National Forest and the Holy Cross Range, there's only one place to go, and that's up. Perched on top of Vail Mountain, the Nature Discovery Center offers some of the best views of the valley. Take in the high alpine environment with two guided expeditions; two Nature Walks depart from the Nature Discovery Center daily at 11:00 am and 2:00 pm, lasting an hour each. But the day is just one side of the wild Rockies. Thursdays through Saturdays a Naturalist will lead an Evening Hike at 7:00 pm for those who want to learn more about creatures that stay active when the sun goes down.
Not to be pushed aside are Walking Mountains' many programs at partner locations. Visit them at the Vail Farmer's Market, take half-day hikes with the family at Meadow Mountain and more trails, and enjoy a campfire at Slyvan Lake, Gore Creek, and Yeoman Park campground amphitheaters.