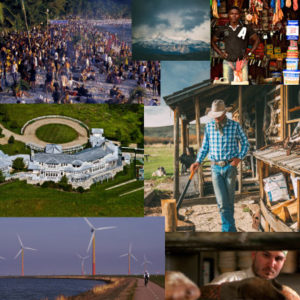 With the colder months approaching Colorado evenings become less pleasant to spend outdoors and better for spending quality time with friends, family, and community inside. For a fun, social, and educational time this winter, join Walking Mountains Science Center for their annual Sustainable Community Film Series, beginning on Tuesday, November 7th at Loaded Joe's in Avon. The film series raises awareness and encourages community dialogue about environmental issues afflicting our world through award-winning independent featured films. Each film is shown twice a month at 6:30 pm for free: at Loaded Joe's in Avon on the first Tuesday of the month, and at the Dusty Boot in Eagle on the third Tuesday of the month.
This season all of the selected films will address climate change in some way. The hot-button issue has been divisive in recent years and is easy to view in the black and white terms of politics. However, climate change has many diverse implications to consider; technology, culture, manufacturing, economics, and more should be included in the conversation about climate change. Each documentary for the film series this year will tell a climate change story, whether it's one from your own backyard or all the way across the globe.
Kicking off the season this year is a two-for-one special; at each showing in November attendees will enjoy two films back-to-back, a shorter film followed by a feature length documentary. "The End of Snow" follows Dr. Jane Zelikova, a tropical ecologist living in the Rocky Mountains. But even an expert in jungles knows when there isn't as much snow as there should be. Embark on a journey into the mountains with Dr. Zelikova to find the tales of the past, present and future of snow. She will dig holes, and fall down those holes. But like any good story, the characters she meets will help show her the way, a map for living in a world beyond the end of snow.
"Minimalism: A Documentary About the Important Things" is a feature-length film that examines the sustainability of consumer culture. Minimalism is not just a style of art, but can also be a way of life. The film will take the audience inside the lives of minimalists from all walks of life—families, entrepreneurs, architects, artists, journalists, scientists, and even a former Wall Street broker—all of whom are striving to live a meaningful life with less.
The first showing for these films is Tuesday, November 7th at Loaded Joe's in Avon, and again at The Dusty Boot in Eagle on Tuesday, November 21st. All films are free to attend and begin at 6:30 pm but showing up early to grab a drink and a good spot is encouraged!
Other films in the schedule this season explore a wide variety of topics. From giant houses on Martha's Vineyard, beaches in Thailand, jean factories in China, and the middle of America, the film series demonstrates that sustainability and climate change are local and global issues, with local and global roles.
The Walking Mountains Science Center Sustainable Community Film Series is presented by Walkin' the Dog. After the films attendees are encouraged to stay for stimulating discussions and an all-around good time! To view a full lineup of the 2017/18 schedule visit www.walkingmountains.org/films.