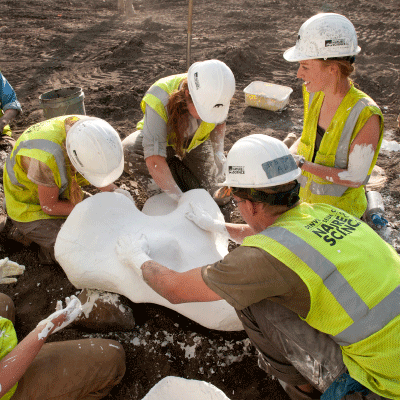 Join Walking Mountains Science Center with paleontologists from the Ice Age Discovery Center in Snowmass Village, Colorado for an afternoon of interactive investigation.  Participants in 2nd through 5th grade have the opportunity to learn the story of the Ice Age first hand.  Touch mammoth and mastodon teeth, wonder at the full size fossils of the American mastodon, giant bison, Jefferson's ground sloth, Columbian mammoth, Ice Age deer, horse, camel, Black bear, Bighorn sheep, coyote, and beaver. At the end of the program, take home a hand-made fossil replica from a real Ice Age fossil!
IF YOU GO…


When: Saturday, November 4th | 2:00pm-4:00pm
Where: Walking Mountains Science Center
Cost: $10/child. Registration required, click here to register.
This is not a drop-off program.  Guardian paricipation is required.