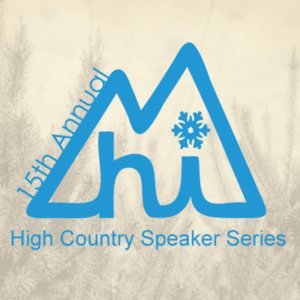 Walking Mountains Science Center and the Eagle Valley Library District are thrilled to once again bring an inspiring lineup of authors, explorers, photographers, and local historians to the Eagle Valley beginning January 10th. The theme of the 15th anniversary High Country Speaker Series is "The Past and Present, a series focused on change in the Rocky Mountains." Speakers, many of whom have presented at High Country Speaker Series in the past, will be discussing the changes they've witnessed and studied since their arrival in the high country.
The mission of the High Country Speaker Series is to encourage environmental awareness, inspire positive relationships with the natural world, and to create thought provoking dialogue in our community.
2017 Lineup:

Title: A Century of Changing Rivers
Date: Tuesday, January 10th | 5:30pm
Presenter: Jonathan Waterman
Location: Walking Mountains Science Center, Avon
Discussion highlights: "Changes in South West Rivers" is based on Jonathan Waterman's journey of discovery down the Colorado River which led him to explore and extensively photograph rivers throughout the southwest.  His conclusions from several years of road tripping combined with river running and chasing down early photographs, is that naturally wet pre-20th Century conditions—long before the modern phenomenon of climate change—made the southwest very different than it is today.  Now, population growth and its huge demand upon water along with new, man-made climate drying, rivers are slowly disappearing throughout the southwest. A Q&A, discussion, and book signing will follow his lecture.
**Join us at 5:00 on January 10th for a special kick-off reception to 15 years of High Country Speakers with generous donations from New Belgium Brewing. All ages welcome**

Title: Pioneers and Pluck: Eagle County History
Date: Thursday, February 9th | 5:30pm
Presenter: Kathy Heicher
Location: Avon Public Library
Discussion highlights: Kathy Heicher has been a resident of the Eagle Valley since arriving fresh out of college in 1972 to take a job as editor of the local weekly newspaper, the Eagle Valley Enterprise. A graduate of Colorado State University with a degree in journalism, Heicher worked for various newspapers and magazines in the valley and greater region. Although she has written thousands of news stories, Heicher admits that she has always had a soft spot for local history feature stories. She has earned numerous awards during her journalism career.
Now retired from newspaper writing, Heicher has turned her attention and writing skill to preserving Eagle County history. She has authored three local history books. Her most recent book, The Bridges of Eagle County, is the winner of the 2016 Caroline Bancroft Project Award from History Colorado. The award recognizes project that have made a significant contribution to Colorado history.

Title: Outdoors in the Southwest
Date: Saturday, March 18th | 2:00pm
Presenter: Dr. Andrew Gulliford
Location: Avon Public Library
Discussion highlights: Dr. Andrew Gulliford, professor of history and Environmental Studies at Fort Lewis College in Durango, will lecture on his book Outdoors in the Southwest: An Adventure Anthology. The book won the New Mexico-Arizona Book Award for nature/environment and the New Mexico-Arizona Book Award for Best Book on Arizona because of the many references to the Grand Canyon. Outdoors in the Southwest also won the Colorado Book Award for Best Anthology.
Gulliford will read and reflect on passages from the book with particular reference to "looking for history" and what can be learned from archaeological and historical sites on America's public lands. He will also discuss "catch and release arrowhead hunting," and "wilderness tithing" or giving back to public lands through volunteer projects. He encourages audiences to share their hiking and mountain climbing experiences. Three decades ago he helped Eagle County pioneer Helen Dice write her memoirs of life on Brush Creek.

Title: This Land is Your Land
Date: Thursday, April 6th | 5:30pm
Presenter: Dyana Furmansky
Location: Walking Mountains Science Center, Avon
Discussion highlights: Dyana' Furmansky's presentation focuses on the history of the White River National Forest, one of the earliest forest reserves drawn from the public domain. She explains why far-seeing federal management of the White River is essential to assure that all public lands be retained as the nation's natural inheritance for the benefit of all Americans, and how this effort is up to us.
Change is the only constant in life wrote Heraclitus, and in the High Country, we are at ground zero for witnessing many of the exciting and ominous changes that can help up shape our future. Walking Mountains Science Center and the Eagle Valley Library District invite you to come experience the changes and take an ownership stake in what our futures will become.
For more information visit: www.walkingmountains.org/hcss or www.evld.org/hcss.