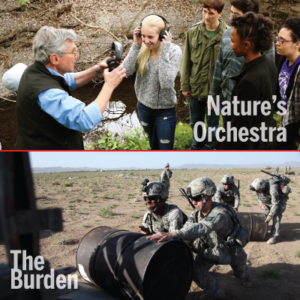 There is no denying that the United States is heavily dependent upon fossil fuels. In fact, the U.S. alone currently uses about 1/5 of the world's global oil. When it comes to being reliant upon fossil fuels, the U.S. military is the world's largest institutional consumer of oil. Nearly everything the U.S. military does is in some way tied to fossil fuels. They use oil and gas in their convoys, tankers, trucks, and planes and they expend an enormous amount of energy, time, and resources simply protecting and transporting fuel throughout the battle field. All in all, the military's usage of fossil fuel is a pressing environmental and humanitarian issue that must be addressed as soon as possible.
To help start a conversation about this pressing issue, Roger Sorkin produced the documentary "The Burden." This film will be featured at Loaded Joes on February 7th at 6:30pm and the Dusty Boot on February 21st at 6:30pm as a part of the Sustainable Community Film Series presented by Walkin' The Dog. The Sustainable Community Film Series is a project of Walking Mountains Science Center intended to raise awareness and encourage community dialogue about environmental, economic, and social issues afflicting our world.
This month, the Sustainable Community Film Series will be presenting a double feature. As a bonus, after "The Burden," we will be showing the documentary "Nature's Orchestra: Sounds of a Changing Planet." This short film follows musician Bernie Krause as he travels around the world to listen to and record the sounds of fragile ecosystems. Krause feels that the nature soundscapes he records represent the voice of a living ecosystem. By listening to these nature soundscapes, Krause and his team can hear the ways in which the ecosystems they visit have changed over time. In this way, these soundscapes can be used as a measure of an ecosystem's health. Krause suggests that if we listened to the environment around us more carefully, we might gain a deeper, better understanding of the world around us.
Both "The Burden" and "Nature's Orchestra" are enlightening films that raise numerous questions about how we interact with the world around us. They will leave you feeling inspired and dedicated to improving the health of our planet.
IF YOU GO…
What: "The Burden" and "Nature's Orchestra"
When/Where: 6:30pm on Tuesday, February 7th at Loaded Joe's in Avon and 6:30pm on Tuesday, February 21st at the Dusty Boot in Eagle
Cost: $5 suggested donation
More Information: www.walkingmountains.org/films