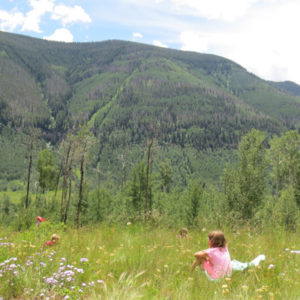 Children are often the most observant explorers of the natural world around us, but they may not have the skills to put their discoveries into words. This workshop will combine the experience of nature exploration and the practice of children's inherent observational with the art of poetry. Join Walking Mountains Science Center with special guest poet Jodie Hollander for a fun day blending the exploration of nature with the art of writing. On Saturday July 15 from 10:00am to 2:00pm participants will learn the craft of nature writing while taking a hike, reading examples from other authors, learning basic poetic terms, finding their own special place in nature, and attempting their own poem about an animal or something inspirational found in nature.
Jodie Hollander's debut publication, The Humane Society, was released in 2012 and her second book, My Dark Horses, is forthcoming in September 2017. She is the recipient of a Fulbright Fellowship in South Africa, and she is currently the poetry editor for GARO, the journal for the Rocky Mountain Land Library. More information is available at Jodiehollander.com. Jodie will co-present this workshop with a skilled Walking Mountains Science Center field instructor. The Nature Writing Workshop for Kids is designed for 8-12 year old children.
IF YOU GO…
What: Nature Writing Workshop for Kids
When: Saturday, July 15 10:00am-2:00am
Where: Walking Mountains Science Center in Avon
How much: $25 per child, ages 8-12 years
Space is limited, please click here to learn more and to register!