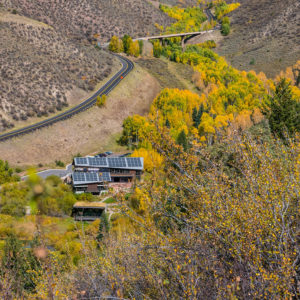 When the leaves start to change color and kids return to school, Walking Mountains Science Center embraces these natural cycles and adjusts their programs accordingly. From picking hiking trails to help you optimize fall color viewing to children's activities focused on the seasons and animal life cycles, Walking Mountains will help learners of all ages and abilities grasp onto those last few weeks of warm weather. Starting September 5th, Walking Mountains Science Center in Avon and the Vail Nature Center will be open Monday-Saturday, and the Nature Discovery Center on top of Vail Mountains will be open Friday through Sunday.
Walking Mountains Science Center – Avon, CO (Monday-Saturday | 9:00am-5:00pm)
You don't have to stray far from town to see the wonderful displays of golden aspen leaves. Walking Mountains Science Center in Avon is nestled next to Buck Creek and surrounded by trees that have already started shedding their green color. Enjoy a free, gentle, afternoon (2pm start) Nature Walk Monday – Saturday amongst the aspens with a knowledgeable Naturalist. The Earthkeepers pre-K program (kids 3-5 years old) embraces autumn with topics like Decomposers, Symphony of Colors, and Not so Creepy Creatures. Of course, in the spirit of Halloween, Walking Mountains will once again host its scarily popular Fright at the Museum community event on Saturday, October 21st!
Vail Nature Center – Vail, CO (Monday-Saturday | 9:00am-4:00pm)
Conveniently located in Vail right across Gore Creek from the Ford Amphitheater, the Vail Nature Center is where you want to be to take in all the majesty of fall in Colorado. The Guided Backcountry Hikes continue into October with trails picked specifically to let explorers see the best examples of leaf colors in Eagle County. Adults (ages 16+) can enjoy full-day excursions every Tuesday and Friday, or the whole family can take in the views with a more leisurely half-day hikes on Wednesday and Thursdays. Also available right along Gore Creek are the hour-long, gentle Nature Walks, Monday through Saturday 11:30 am-12:30 pm at a very low cost to participants.
Nature Discovery Center – Lionshead, Vail Mountain (Friday-Sunday | 10:00am-6:00pm)
Prepare to have your breath taken away! After taking the gondola to the top of Vail Mountain via Lionshead, you will be rewarded by sprawling views of the Holy Cross wilderness and oceans of yellowing forests. Take in the views with a Walking Mountains Naturalist as they give you some natural context for the beautiful environment. Nature Hikes take place Fridays, Saturdays, and Sundays 11:00 am-12:00 pm and 2:00 pm-3:00 pm.