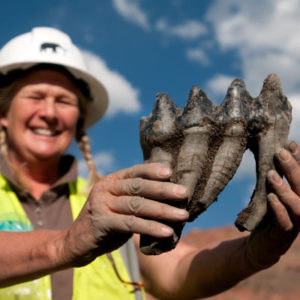 In October 2010, a bulldozer operator working at Ziegler Reservoir in Snowmass Village, Colorado uncovered the tusk of a young female mammoth. Over the next 10 months, the Denver Museum of Nature & Science conducted its largest-ever fossil excavation, uncovering more than 6,000 bones of ten large mammals and over 30,000 small bones from 42 small vertebrate animals. The excavation led to the finest alpine Ice Age fossil trove in the world; Colorado's most important fossil discovery ever, and the largest discovery of mastodons (35+) in the world.
Join Walking Mountains Science Center with a paleontologist from the Ice Age Discovery Center, for an afternoon of interactive investigation. Participants in 2nd through 5th grade have the opportunity to learn the story of the Ice Age first hand.  Touch casts of mammoth and mastodon teeth, wonder at the full size fossil replicas of the American mastodon, giant bison, Jefferson's ground sloth, Columbian mammoth, Ice Age camel, and a saber-toothed cat.  Take home a hand-made fossil replica from a real Ice Age fossil.

Perhaps most importantly, the discovery provides a window into ancient environments and climate stretching back 140,000 years. This has significantly sharpened the ability to see accurately into the future of mountain environments where shifting climate has already initiated change. We now know that the fauna and flora of these ecosystems were challenged by a phenomena where subtle shifts in climate precipitated dramatic, cascading changes in the species of plants and animals that could live in the area. Beyond the wonder of seeing ancient ecosystems in sharp detail, the Snowmass discovery provides a clear lens through which to anticipate the future of our natural environment.
Paleontologist presenter Stephanie Lukowski grew up in the Chicago area, where as a high school student, she volunteered at the Field Museum of Natural History.  She received her Bachelor's degree in geology from Tulane University in New Orleans, Louisiana.  Subsequently, she obtained her Master's degree in vertebrate paleontology from the South Dakota School of Mines and Technology, in Rapid City, South Dakota.  Her graduate research focused on Paleocene-age mammals from the Crazy Mountains Basin in Montana.  She has worked extensively in the field, with sites ranging throughout the western United States and Panama.  Currently, she is the paleontologist at the Ice Age Discovery Center in Snowmass Village, Colorado where she is involved in the management of onsite fossils and replicas, outreach and education.
IF YOU GO…
Date: Saturday, November 4, 2017
Time: 2:00pm – 4:00pm
Where: Walking Mountains Science Center, Avon
Who: Target youth 2nd-5th grade
How Much: $10/child. Guardian participation required. Pre-registration required. Click here to register.
Questions: Please call 970.827.9725 ext. 137