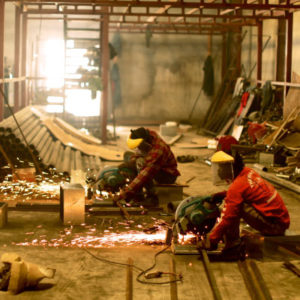 With the holidays coming up, we're all thinking about giving – giving gifts, giving to charities, giving to reduce hunger and fight poverty. But have we truly investigated where these donations end up? Most people want to help, but trying to provide assistance without an inquisitive approach can have an adverse effect.
We have seen hurricane after hurricane hit island nations and the coasts of central and North America, major flooding events, earthquakes, and famine within the last year. With these disasters comes a natural instinct to help. Everyone wants to do good, but how do we ensure that this good makes it into the hands that need it without eliminating access to resources or the local economy?
Drawing on perspectives gathered from over 150 interviews shot over 4 years in 20 countries, Poverty, Inc shows how global aid has transformed culture, the environment, and even entire countries. It also sheds light on how to take the first steps in shattering this cycle of dependency.
This film will be featured at Loaded Joe's in Avon on December 5th and at the Dusty Boot in Eagle on December 19th as a part of the Sustainable Community Film Series. The Sustainable Community Film Series is an annual project of Walking Mountains Science Center intended to raise awareness and encourage community conversation about pressing issues impacting our world.
Poverty, Inc. dives deep into the global aid system, investigating where this good-hearted philanthropy and charity truly ends up and uncovering its impact on the local economies to which it is applied.  It takes a look at the historical influence of first world countries on the poverty industry – yes, an entire industry has been created to tackle this issue. By investigating national approaches to foreign aid and the work of large donors and NGOs,  the film sheds light on how some of this aid is truly inhibiting those in need from re-establishing their communities.
People are losing jobs, local industries are disappearing, and money is going into the pockets of others more fortunate. It's time to take a closer look and empower those in poverty to get out of it. Poverty, Inc. shows us that by working with locals from within the walls of their own communities, access to resources can be re-established, and we can create a more stable model to move toward eradicating poverty.
To view the entire line-up of the series, visit www.walkingmountains.org/films and for more information about this film, visit www.povertyinc.org
IF YOU GO…
What: "Poverty, Inc." film is part of the Sustainable Community Film Series
When/Where: 6:30 p.m. Tuesday at Loaded Joe's, Avon and again at 6:30 p.m. Dec. 19th at Dusty Boot, Eagle
Cost: $5 suggested donation
More Information: Email melissak@walkingmountains.org