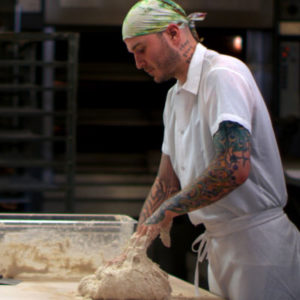 When was the last time you thought about where your food came from? Or who grew your food? Did they use sustainable methods? Or even, how far your food traveled before ending up in your refrigerator? These are all important questions that many people fail to consider as they purchase their food.
This month's film in the Sustainable Film Series is SUSTAINABLE, a vital investigation of the economic and environmental instability of America's food system.  The documentary explores many agricultural issues we face, from soil loss, water depletion, climate change, and pesticide use, to the community of leaders who work to improve it.
Our food system developed over several decades to be as efficient and profitable as possible. With developments in frozen food, microwaves, processed food, and the ease with which these foods can be transported, the goal for farms across the US has moved away from growing quality food toward making more quantity for as much money as possible.
Despite this poor system, we are beginning to see a recent rise in a more sustainable food system, a system where farmers like Marty Travis are growing food organically and distributing locally. While this system is not the most efficient, its benefits include health and longevity. It is a system that will support healthy communities for many years to come.
SUSTAINABLE will be featured at Loaded Joe's in Avon on Tuesday, April 3rd and at the Dusty Boot in Eagle on Tuesday, April 17th. The Sustainable Film Series is an annual project of Walking Mountains Science Center and  intends to raise awareness and encourage community conversation about pressing issues impacting our world. Consider this statement from the film: "The future of our food system determines the future of mankind."
Are there issues that you would like to see addressed in your community? Other concerns that you feel are more pressing for your neighborhood? After the film we encourage attendees to stay and talk among themselves or with the group as a whole. This program attracts a diverse crowd so come prepared to challenge yourself and share your perspective.
To view the entire line-up of the series, visit www.walkingmountains.org/films and for more information about this film, visit https://sustainablefoodfilm.com/.
IF YOU GO…..
What: "SUSTAINABLE" film is part of the Sustainable Community Film Series
When/Where: 6:30 p.m. April 3rd at Loaded Joe's, Avon and again at 6:30 p.m. Apr. 17th at the Dusty Boot, Eagle
Cost: $5 suggested donation
More Information: Please email Melissa Kirr at melissak@walkingmountains.org.