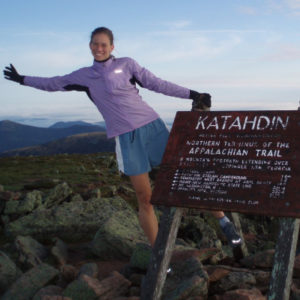 On Sunday, June 24th Walking Mountains Science Center is thrilled to welcome National Geographic Adventurer of the year, Jennifer Pharr Davis back to Eagle County for a day on our fabulous trails! Pharr Davis, who spoke at the 2018 High Country Speaker Series, is a hiker, author, speaker, and National Geographic Adventurer of the Year who has covered over 14,000 miles of long distance trails on six different continents.
Jennifer has written six books, articles for the New York Times, Outside magazine, Backpacker, and Trail Runner, and has been featured in the Washington Post, the New York Times, NPR's Talk of the Nation and the CBS Early Show. Her new book The Pursuit of Endurance (Viking) came out in April of 2018. Jen will be co-leading the hike with Walking Mountains' hiking guides and they are looking forward to matching Jen's passion and experience on the trail with their own passion for stewardship, public lands, and great Eagle County Trails!

Hikers will meet at Walking Mountains the morning of June 24th and get to know Jen on the short drive to a local trail that has been selected for its wildflower meadows, gorgeous peak views, and relative accessibility. Walking Mountains' hiking program provides hiking poles and transportation, participants should come prepared to spend a day on the trail with packs, water, lunch, and most importantly a sense of wonder that is certain to be piqued in the backcountry! Contact Peter Suneson at Walking Mountains Science Center with any questions and register online at www.walkingmountains.org
When: Sunday, June 26th | 9:00 am-3:00 pm
Cost: $100/person. Ages 18+. Click here to register.
Where: Walking Mountains Science Center, Avon CO
Sign up for the Edible and Medicinal Plants Foray too and get 50% off any Summer or Fall Guided Backcountry Hike!
Learn more about Jennifer Pharr Davis:
website: http://jenniferpharrdavis.com/
Twitter: @JenPharrDavis
Facebook: https://www.facebook.com/jennifer.p.davis.3/