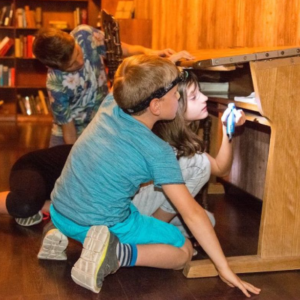 You have been called upon by two world renowned scientists to help them complete the formula for nuclear fusion in a brilliant plan to save the world.  However, when you arrive at their secret laboratory, neither scientist can be found.  A letter located at the lab's entrance reveals that the two scientists are at odds with how to use this new found ultimate power.
One scientist has hidden the formula from the other in an attempt to keep him from destroying the world.  She has left clues for the young scientists to enter the laboratory and unlock the mysterious secret formula so they can release it into the right hands. Will you be one of the scientists to help save the world?

Join Walking Mountains Science Center on Saturday, September 29th at 2:00 pm for a game in which players join forces to solve a series of puzzles using clues, hints, and strategy to escape from a locked room and reveal a secret.  This game is a thrilling way to encourage critical thinking and collaboration!  Children 8-12 years old are invited to participate in this game of whit and strategy. Children 8 and older can be dropped off by a guardian – guardian attendance is not required.
IF YOU GO…
When: Saturday, September 29th | 2:00 pm – 4:00 pm
Where: Walking Mountains Science Center, Avon CO
Cost: $10/child. Click here to register.
Who: Target ages 8-12 years old. Children 8 and older can be dropped off by a guardian.  Guardian attendance is not required.