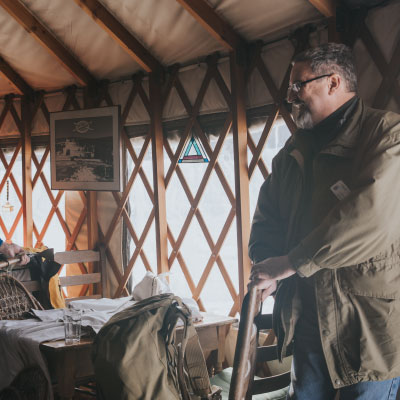 Join Walking Mountains Science Center and the Eagle County Historical Society for the next installment of the Hike Through History series. This time, we'll travel to World War II-era Eagle County and explore what life was like with a booming army city on Tennessee Pass.
Camp Hale is a National Historic Site and is being considered to become the nation's first National Historic Landscape.  This added designation would help restore the site to its original ecological integrity while improving the history experience of visitors.
The group will meet at Walking Mountains Science Center and take van transportation to Tennessee Pass. Kathy Heicher from the Eagle County Historical Society will help us imagine pre-WWII era Tennessee Pass and the silver mining and ice harvesting that was crucial to the region.
Upon arrival to Camp Hale, we'll meet up with David Little from the 10th Mountain Division Foundation. Camp Hale was the center of the U.S. Army's mountain and winter warfare training and home of the 10th Mountain Division unit. David Little is an encyclopedic resource for everything 10th Mountain Division and will take us on a van tour of Camp Hale and its structures. The valley once held over 1,000 structures and had a population of more than 30,000 people – David Little will help bring it to life and let us imagine what life was like in this elite army town. Many of us know the basic story of Camp Hale and the legacy of the 10th Mountain Divison– but there is so much more! Join us for an unforgettable hike through history.
What: Hike Through History with Walking Mountains Science Center and the Eagle County Historical Society
Where: Camp Hale. Departs from Walking Mountains Science Center in Avon.
When: Sunday, September 8, 2019 9am-3:30pm
Cost: $100. Click here to register.
Eagle County Historical Society Members and Walking Mountains Science Center Hiking Club members receive a discount! Contact Nathan Boyer-Rechlin, nathanbr@walkingmountains.org for more information. 
Look for more opportunities with Walking Mountains by visiting www.walkingmountains.org and the Eagle County Historical Society at www.eaglecountyhistoricalsociety.com. All proceeds shared by the two nonprofit organizations.