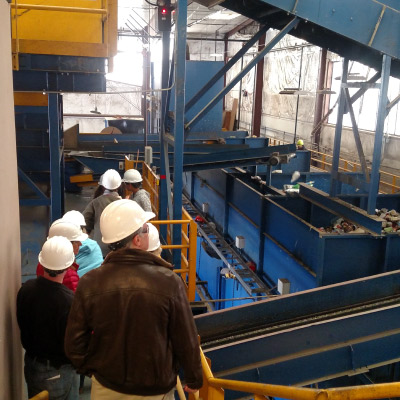 Join us for a FREE guided tour of the Eagle County Materials Recovery & Household Hazardous Waste Facilities!
Have you ever wondered what happens to your recycled items after you leave them at the curb or drop them off at a recycling drop-site? Want to find out? Without knowing what happens next, it is hard to truly understand the impact you are making by decreasing your waste sent to the landfill.
This tour is available to school groups, community groups, businesses, families, and more. To sign up for a  community tour chose a date below or contact Melissa Kirr at 970.827.9725 x 133 to schedule a different time. All tours are scheduled to start at 9:00 am.
2019 Dates and Registration:
Friday, April 19th  |  Tuesday, August 6th  |   Tuesday, November 5th
Tours last about 2 hours. Transportation can be provided from Avon or you can drive yourself. Once you have signed up you will be contacted with more logistics.
Information on where you will visit:
The Recycled Materials Recovery Facility (MRF) began operations in January 2010. This facility is designed to process for market the recycled materials collected in Eagle County and adjoining jurisdictions. Having this facility in place and operational removes the barrier to our local recycling programs of distance-to-market.
Collected materials are separated, baled and readied for direct shipment to end users. The facility utilizes both mechanized and manual sorting techniques to separate all recycled materials.
The Household Hazardous Waste Facility is a place where residents and businesses can dispose of old chemicals, prescription drugs, household hazardous waste, and electronic waste. It offers a safe way to properly dispose of these materials to help prevent them from getting into the waste stream and polluting the environment.