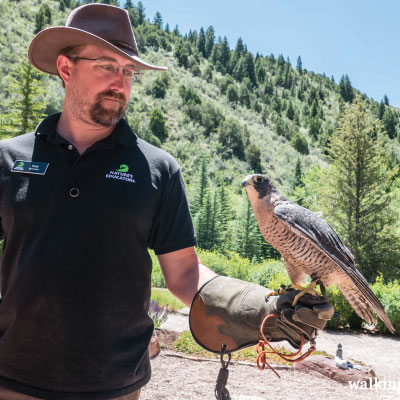 Exclusive Wildlife Photography Event with HawkQuest at Walking Mountains Science Center
Lights, camera, talons! You are invited to experience birds of prey in up close and personal at Walking Mountains Science Center on Saturday, August 24. HawkQuest, a nonprofit raptor education organization based in Parker, CO, will bring a variety of raptors to Walking Mountains in partnership with the Vail Valley Art Guild. Photographers will get a chance to take pictures of a variety of beautiful birds, such as barn owls and peregrine falcons, that most people are usually only lucky enough to get a glimpse of in the wild. The raptors will be posed in natural settings for your photos and you will learn about them firsthand from the educators who care for and train them.
Date: 8/24/19
Schedule:
9:30am: Light breakfast and coffee
10am-12pm: Rotate through bird photography sessions, followed by a group presentation
Cost: $45
Register: Click Here
This program is intended for an adult audience. Don't forget your camera equipment!