Eagle Valley Outdoor Movement (EVOM)
The Eagle Valley Outdoor Movement (EVOM) is a group of organizations and community members led by Walking Mountains Science Center, striving to provide equal access to outdoor spaces and opportunities for youth and families in Edwards, with the potential for replicability in other communities in Eagle Valley in the coming years.
Calendar of Events
Each month we offer free events to families to connect them to the outdoors around them.
Email EVOM@walkingmoutains.org to register for an event or program
Campeon de EVOM
Meet our EVOM Champions: individuals selected quarterly from partner organizations for their passion and commitment to their respective organizations and missions, their community and the EVOM movement! Subscribe to our newsletter to receive these in your email throughout the year, send an email to EVOM@walkingmountains.org.
How EVOM Works
The initiative addresses a variety of barriers locals experience in accessing the outdoors, including a lack of awareness of outdoor recreation opportunities, transportation, perceptions of risk, time, and costs associated with programs and equipment. EVOM aims to break-down these barriers through collaborative partnerships, creating nearby safe outdoor spaces, providing fun and engaging youth and family programs and helping individuals experience the lifelong benefits of spending time in the outdoors.
Project Components
The Eagle Valley Outdoor movement is divided into three components: Programs, Pathways and Places. Click the link below to read more about each component and the work being done in Eagle County.
Follow EVOM on Facebook
Don't miss out of updates and announcements about EVOM and EVOM programming.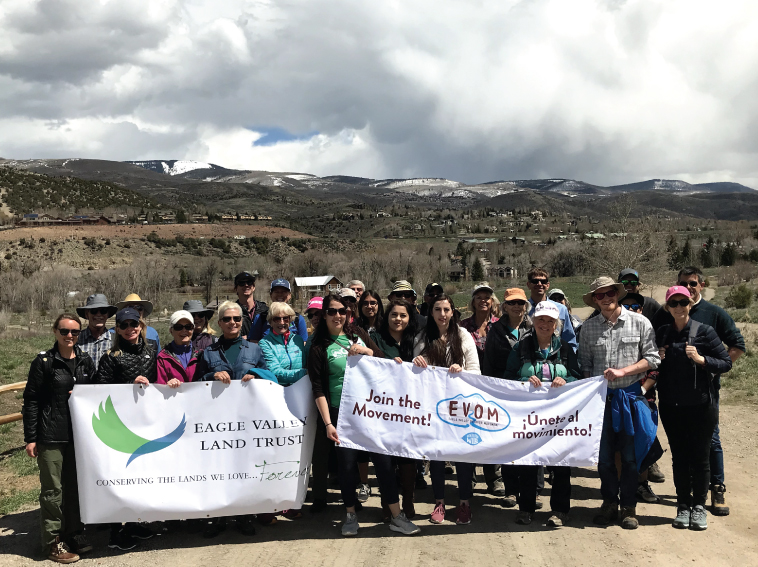 Contact the EVOM Team
For more questions about the Eagle Valley Outdoor Movement and how to get involved, please contact our team.
Meet some of the program team members