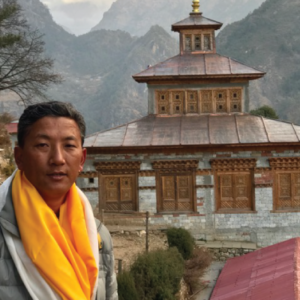 As our huge, tremendous world becomes increasingly accessible, the span of human exploration continues to grow.  What were once perilous, remote, and unattainable destinations to all but a few are now more accessible than ever before. These journeys bring people to new countries and unknown cultures, often at elevations much higher than those of home.  Completing a mission, like summiting a mountain, is an arduous expedition that requires the planning and expertise of many individuals.  The call to travel to extreme environments to gain life-changing experiences and endure formative trials and tribulations is one that can be answered by experienced guides.  The science of high altitude travel and guiding is multifaceted and interdisciplinary, and should not be taken lightly.
Join Walking Mountains Science Center with Pemba Sherpa, of the Sherpa Foundation, for an evening looking deeper into the science of our bodies, minds, and spirits at extreme altitudes.  On Thursday, February 9th from 6:30-8:30pm we will discuss the physiology of human lungs, brains, and blood, and how we adapt to changes in elevation.  Pemba will captivate the audience with life at 17,000 feet above the sea,

while explaining the Sherpa culture, tradition, and place in the field of mountaineering.  Participants will learn what factors set Sherpas apart from other high mountain explorers and discover the rich history of Pemba's upbringing that inspired him to give back to his community.
Our guest presenter, Pemba Sherpa, was born and raised in the Everest region of Nepal and has been involved with guiding since he was 10 years old, when he became a Porter. Now a local resident and owner of Sherpa Painting, he is still a Trek & Tour Guide in Nepal. He began the Sherpa Foundation to rebuild homes devastated by the 2015 earthquakes and to support community development in the mountain communities of Nepal. He is the recipient of Nepal's equivalent Medal of Honor for his charitable work.
IF YOU GO…
What: The Science Behind High Altitude Guiding
When: Thursday, February 9th, 6:30-8:30 pm
Where: Walking Mountains Science Center in Avon
Cost: FREE, $5 donation suggested
Space is limited, please click here to register! To learn more about the Science Behind Series and more upcoming topics, click here.