Guided Backcountry Hikes
Join a trained Certified Interpretive Guide and Wilderness First Responder to discover some of the most beautiful hiking destinations in the Vail area that are only accessible via your two feet! Walking Mountains Science Center Guided backcountry hikes operate under special permits from the US Forest Service and Bureau of Land Management that allow us to experience and learn from public lands like few other Eagle County hiking guide services can offer! Transportation is provided from various locations from Vail to Edwards.
See all the different types of hikes we offer below!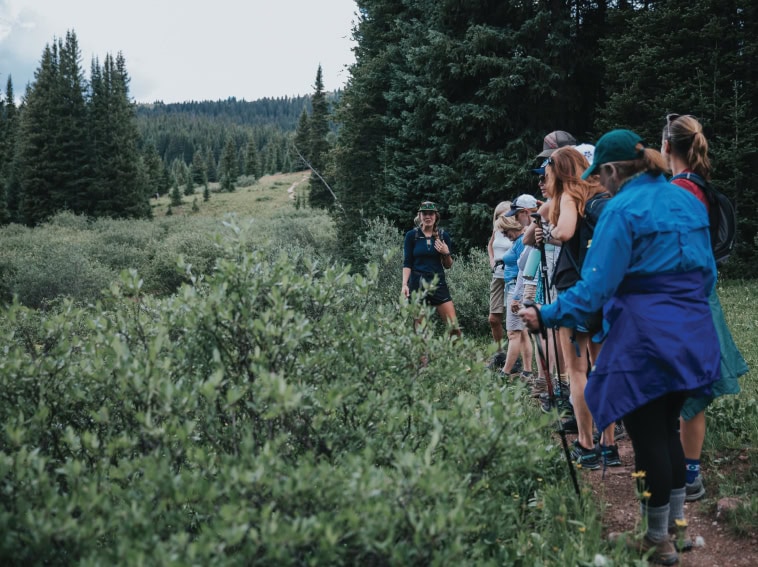 Backyard Backcountry Series
Join us for a half day hike on your local trails and learn a little more about what's going on in your backyard! Put on your naturalist cap for these hikes and learn to identify your local wildflowers, become a scientist for a day searching for American pika, experience why mushrooming can such a finicky hobby, and more! Each hike explores a new topic on one of your favorite backyard trails!
Hikes take place every other Friday, June 18 - October 8, on various trails in the Eagle River Valley.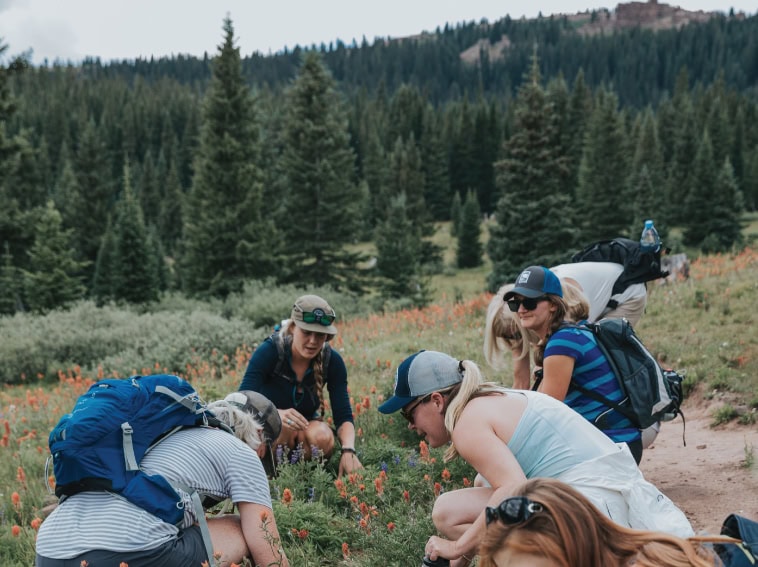 Science Behind on the Trail
Science Behind On the Trail hikes are all about the arts, activities, and local issues that connect us with our environment. Each month we partner with a local expert, artist, or organization and hit the trails to explore our curious nature! Hikes range from easy walks to moderate hikes. To learn more about each hike, our partners, and to register scroll through our schedule below.
Community Science & Stewardship Hikes
Get your hands dirty, and contribute to real science and stewardship projects going on here in Eagle County! If you've ever wondered what research ecologists do out in the field, been interested in citizen science but felt uncomfortable travelling into the backcountry on your own, wondered how trails are designed & built, or wanted to do a little science while out on your hikes, then this series is for you!
Backcountry Club Hikes
Full Day : Tuesdays & Thursdays
Join the Walking Mountains' hiking club for a full day hike on some of the Eagle Valley's most spectacular trails. Our guides, all Wilderness First Responders and Certified Interpretive Guides, are eager to get you out onto the trail, and share a little about what makes our Mountain landscapes so unique!
Join the Hiking Club
Walking Mountains Science Center's Hiking Club is the 'seasons pass' to our summer full day backcountry hikes. Our members hike with us to be a part of a community of hikers & naturalists, to push themselves & discover new trails and peaks, and to 'put on their naturalist hats' on the trail!
To join the Hiking Club email hike@walkingmountains.org
Private and Custom Hikes
Plan your next gathering on the trail! Custom and private hikes are available for package deals or customization.
Join a Walking Mountains' interpretive guide and experience Colorado's backcountry! To submit a private program request, select your desired program length, experience, and group ability level.