Foley Graduate Fellowship in Natural Science Education
This multi-faceted graduate fellowship program in natural science education at Walking Mountains Science Center is a full-time, 2 year and 3 month professional development program that focuses on K-12 field science education, leadership, and helping to grow a reputable nonprofit organization.
We are now accepting applications for 2021-2023! Apply here.
This position is responsible for serving the organization with a personal commitment to awakening a sense of wonder and inspiring environmental stewardship and sustainability though natural science education. The Natural Science Educator position requires dedication to experiential learning, environmental education, natural science education, and life-long learning. The Natural Science Educator coordinates and teaches natural science programming both in the classroom and in the field during our summer science camps and school field programs. In addition to teaching responsibilities, Natural Science Educators simultaneously participate in a Master of Arts graduate program through University of Northern Colorado's School of Biological Sciences, College of Natural and Health Sciences and Extended Campus. Natural Science Educators are enrolled in courses taught at Walking Mountains Science Center and online. Upon successful completion of all required coursework and responsibilities of the 2 year and 3 month position, Natural Science Educators will earn a Master of Arts Degree in Science Education from the University of Northern Colorado (UNC).
Each semester (summer, fall, and spring) Natural Science Educators will be enrolled in two courses simultaneously, ranging between 3-6 credits per semester. One course each semester is taught in seminar and discussion format during the regular work week, and is scheduled around field teaching responsibilities. The second course each semester is online, and generally self-paced. Course readings and assignments are required, most of which will take place outside of the Natural Science Educator's regularly scheduled work week. Coursework is designed to enhance teaching by providing resources related to instructional strategies, student developmental abilities, curriculum design philosophy and practice, educational research, science content knowledge, and history and theory related to the field of environmental education in general. The program culminates with an action research project and presentation, which serves as the comprehensive exam.
Do you have questions about Walking Mountains' fellowships? Contact:
Chris Cohen, Youth Program Director at chrisc@walkingmountains.org
Jaymee Squires, Graduate Program Direction at jaymees@walkingmountains.org
Begin the Program
During the first summer, Natural Science Educators are mentored by the outgoing cohort of Educators, and together are responsible for preparing and teaching week-long youth natural science camps to students primarily in 1st-6th grade. There are a few middle and high school programs offered as well. Most summer camps are day camps, but some are residential and based out of backcountry huts. Educators will also begin the first two graduate courses during the summer, an online course entitled Introduction to Graduate Research and a second class in person at Walking Mountains, K-12 Science Inquiry.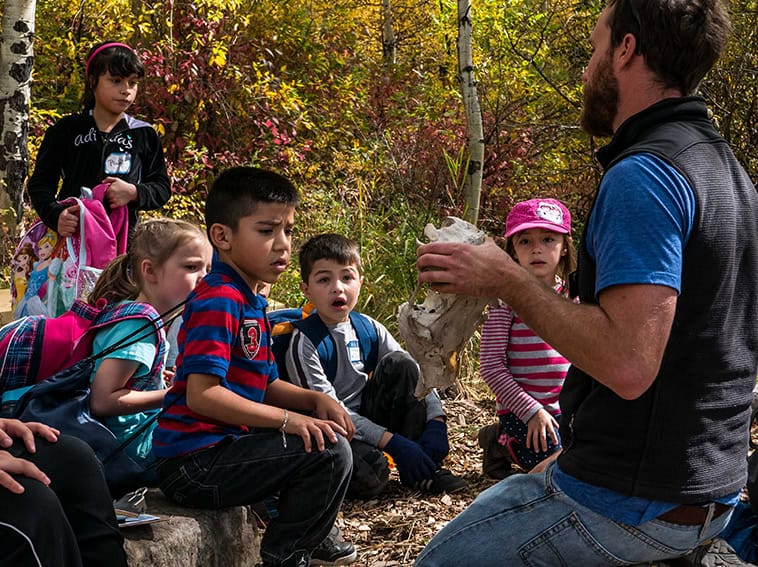 By fall, Natural Science Educators are fully responsible for planning, preparing and teaching K-12 students in a variety of field science topics such as geology, sustainable energy, biodiversity research, weather, ecosystems, snow science and winter ecology. Ranging from one to three days, and sometimes residential, field programs are a vital supplement to traditional classroom learning. The majority of school programs are one day in length. There are opportunities for curriculum development during the fellowship as well. Coursework during this season includes Teaching Culturally and Linguistically Diverse Learners (online) and Program Design & Planning in Environmental Education (in-person).
During the second year, Natural Science Educators continue teaching summer camp, field science programs, mentor the incoming cohort of Educators, continue with their graduate coursework, conduct an action research project, and thereby round out their professional experience by providing critical leadership and program coordination.
Professional Development is tied to the Master of Arts in Science Education graduate program through University of Northern Colorado's School of Biological Sciences, College of Natural and Health Sciences and Extended Campus. Over the course of their fellowship, Natural Science Educators participate in 30 credits of graduate courses that complement and support their ongoing teaching responsibilities and professional growth as a natural science field educator. Courses on campus are taught by the Walking Mountains' Graduate Programs Director, with support from Walking Mountains faculty, and online courses are taught remotely by UNC faculty. The cost of the credits is paid for by Walking Mountains Science Center as a component of the Natural Science Educator's compensation and benefits package.
Endorsements
"The experiences I gained as an Educator at GRNSS [now Walking Mountains] were phenomenal, and provided me with an EE background that allowed me to qualify for this position with Sierra Nevada Journeys 100%. Between my time as a [Walking Mountains] educator and the Masters I got through the program, I believe I became a highly qualified professional in the field of EE." ~Sean, 2007-08 Graduate Fellow
"We have the best discussions in grad class." ~Matt, 2016-2018 Graduate Fellow
"This course has clarified my values and beliefs as an educator and helped me direct my teaching approaches towards those values." ~Kelsey, 2016-2018 Graduate Fellow
"The ripples of this course I'm sure have contributed to the splash of working here, and the integration is beneficial, positive and progressive. Personally I just feel good to be learning more than I thought I would and professionally it's awesome to have this extra coursework as a backbone to further work I may pursue." ~Ellen, 2005-06 Graduate Fellow
"With each additional reading and education theory discussed, small parts of my field programs changed. It is great to be able to read and discuss relevant topics and then put the knowledge to the test in the field!" ~Chris, 2008-09 Graduate Fellow
Benefits
Benefits
Benefits of this position are numerous – including the opportunity to spend over 2 years learning, teaching, living and playing in our beautiful mountain environment. Natural Science Educators receive seven weeks of training, 30 graduate credits through University of Northern Colorado paid for by Walking Mountains, five weeks of scheduled vacation per year, a ski pass, health and dental insurance, and housing provided.
Courses
The courses are as follows, although some electives may change based on availability:
SCED 578- K-12 Science Inquiry
SCED 551- History and Theory in Environmental Education
SCED 553- Program Design and Planning in Environmental Education
SRM 600- Introduction to Graduate Research
SCED 678- Science Education Seminar
SCED 521- Physics in Modern Medicine (tentative elective)
SCED 531- Teaching Chemistry for the Future (tentative elective)
PSY 681- Cognition and Instruction
SCED 530- Laboratory, Field and Studio Safety
ECLD 602- Teaching Culturally and Linguistically Diverse Learners
SCED 695- Action Research in Science Education I
SCED 696- Action Research in Science Education II
SCED 697- Action Research in Science Education III