Nature Walk - Avon
Join a Naturalist for a free gentle educational hike through aspen and riparian communities at our Avon location. Learn about the ecology and animal adaptations of this mountain environment. Come prepared to spend an hour outside with appropriate clothing, hiking shoes and water.
Nature StoryWalk® - Avon
Read a new book each week and take a nature walk to explore how these stories come to life. For ages 5-10 years old.
Wednesdays from 12:30-1:30pm at the Avon Tang Campus
Early Bird, Bird Walk - Avon
Explore meadows, forests, and riparian areas in search of our many resident birds. Learn about birding, bird identification, and habitats important to our avian friends.
Mondays and Fridays from 9-10am at Avon Tang Campus
Guided Nature Hike - Vail Mountain
Join trained Naturalist for a leisurely hour-long nature hike on top of Vail Mountain where you will be treated to incredible views and the chance to spot local wildlife.
Wednesdays- Sundays from 11:00am-12:00pm & 2:00-3:00pm 
Wildflower Walks - Vail
Join Vail Nature Center staff on our leisurely one-hour Vail wildflower walks through the woods and meadows to learn about the native flowers that carpet the mountains, the conditions they need to thrive, and how they change throughout the season.
Looking to identify some wildflowers in your own backyard? Check out our Colorado Wildflower Guide!
Mondays, Wednesdays, Fridays & Saturdays from 11:30am-12:30pm at the Vail Nature Center
Creekside Nature Tours - Vail
Join us for a casual stroll along Vail's streamside paths to the Vail Nature Center. Tours depart from the Walking Mountains Science Center booth at the Vail Farmers' Market Sundays throughout the summer.
Sundays 11:00-12:00om & 1:30-2:30PM at the Walking Mountains Booth on Meadow Drive at the Vail Farmers Market. 
Morning Bird Walk - Vail
Discover and learn about the breathtaking variety of local birds on a morning walk through the meadows and woods along Gore Creek at the Vail Nature Center.
Tuesdays and Thursdays from 9:00-10:00am at the Vail Nature Center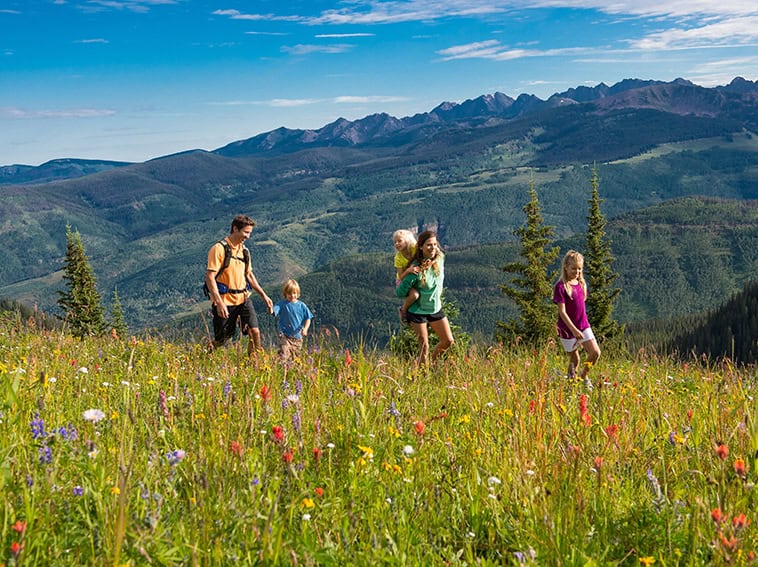 Meadow Mountain Hikes
Ever wonder what lies within our beautiful mountainous areas? Join a Naturalist on a hike to learn about public lands, flora, fauna, wildlife, and local history. This hike will take place on the Meadow Mountain trail and you will develop skills to prepare for your next adventure into the White River National Forest.
Mondays and Fridays at 10:00am - 12:00pm at Meadow Mountain in Minturn