A Culture Of Sustainability
At Walking Mountains Science Center we are committed to the sustainability of the Eagle Valley and surrounding mountain environment. We have a culture of sustainability and we value the ecological, economic, and cultural health of our community and our valley. Therefore we strive to engage our participants, visitors, and employees in environmental stewardship and learning about the surrounding mountain environment. We also encourage our participants, visitors, and employees to participate in local cultural and educational opportunities that enrich our community's sense of well-being. Walking Mountains uses a Sustainability Action Plan to set goals and guide our progress and we create an Annual Sustainability Report to communicate and celebrate our successes.
By participating in our programs you are choosing to support certified sustainable activities.  To learn more about our culture of sustainability we encourage you to view our Sustainability Handbook.

Colorado Environmental Leader – Gold Certified
Walking Mountains is recognized as a Gold Leader in the Colorado Department of Public Health & Environment's: Environmental Leadership Program.  A voluntary program recognizing Colorado entities that go beyond compliance with environmental regulations and reach towards the goal of sustainability.

Actively Green Certification
Walking Mountains has been assessed and awarded Actively Green Certification. Actively Green Sustainable Business Certification program helps make sustainability actionable in day-to-day operations. The program concentrates on the 3 P's: People, Planet, and Profit, while creating a culture of sustainability within any organization.
Click here to learn how your business can be certified Actively Green.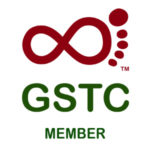 Global Sustainable Tourism Council Member
Walking Mountains is a member of the Global Sustainable Tourism Council (GSTC). The GSTC is the world's only sustainable tourism accreditation body and is spearheading the effort to promote sustainability as a common goal for travel and tourism.  Walking Mountains' Actively Green Sustainable Business Certification Program and Mountain IDEAL Sustainable Destination Certification programs are both recognized by the GSTC.