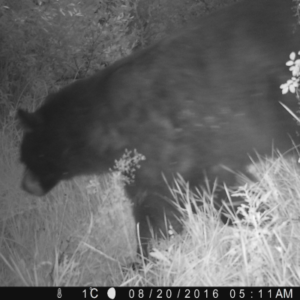 Avid hikers have a unique opportunity to volunteer with the Colorado Corridors Project to help researchers with a wildlife monitoring study using remote camera traps.
At an elevation of over 10,000 feet, Vail Pass has been identified as an ecologically significant site both statewide and regionally as an essential habitat corridor for many wildlife species – especially snow-dependent species such as the Canada lynx. However, habitat connectivity on the Pass is currently severed by I-70.
The Colorado Corridors Project is a citizen science program offered by Denver Zoo, Rocky Mountain Wild, Walking Mountains Science Center, and other partners, aimed at monitoring wildlife in the area of a proposed wildlife overpass over I-70 on the east side of Vail Pass.  The data collected from the cameras will allow researchers to learn more about the needs of the species in the project area and to assess whether the wildlife overpass will be used by wildlife once it is built. The overpass will be the first of its kind on I-70. It will not only give wildlife a safe place to cross, but will also significantly improve driver safety in the area.
After completing a very successful first field season with volunteers in 2016, the project is seeking 30 volunteers to assist project staff with setting up and maintaining field cameras throughout the 2017 field season from early June to late September.
Volunteers will be required to attend a training and sign up for two volunteer days between June and September, 2017. Volunteer days are scheduled for various dates during the week, Monday through Friday, throughout the field season. Participants must be able to hike at high altitudes for several hours at a time and must be 18 years old or older.
The training is scheduled for Monday, May 8th from 6-8:30 pm at Walking Mountains Science Center in Avon, Colorado. Volunteers will learn about project expectations and field protocols. Dinner will be provided. Please RSVP to wildlife@rockymountainwild.org ASAP to register and find out additional information.
IF YOU GO…
What: The Colorado Corridors Project Volunteer Training
When: Monday, May 8, 2017 6:00-8:30pm
Where: Walking Mountains Science Center in Avon
Space is limited, please RSVP to wildlife@rockymountainwild.org by April 28th to register!