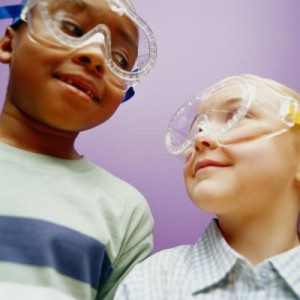 Chemistry can be explosively fun! From endothermic to exothermic, come and explore the science behind mixtures with John McConnell Math & Science Center.  Through demonstrations and hands-on activities, participants will create fire bubbles, instant clouds, thermo sensitive slime, elephant toothpaste, and much more!  Just don't forget to wear your safety goggles!  Changes in color, bubbling and fizzing, light production, smoke, and the presence of heat are just a few of the dramatic possibilities that occur when chemicals are combined.  Ever wonder what's happening when a glow stick is snapped?  From emergency workers to rave dancers, this popular item is made possible by a simple chemical reaction between hydrogen

peroxide and Cyalume.  When we shoot off fireworks every 4th of July, we are experiencing the exciting, colorful interaction between metals such as magnesium and copper.
Join us at Walking Mountains Science Center on Saturday, February 13th from 2-4pm.  We'll have all the tools you need, including the safety goggles, to explore the many chemicals we have to offer.  Children grades 2nd-5th will explore the science of chemoluminescence, precipitants, changing colors, changing phases, and so much more. A scientifically good time you will not want to miss!
When: Saturday, February 13, 2015 | 2:00pm-4:00pm
Where: Walking Mountains Science Center
Cost: $10 per child, click here to register.