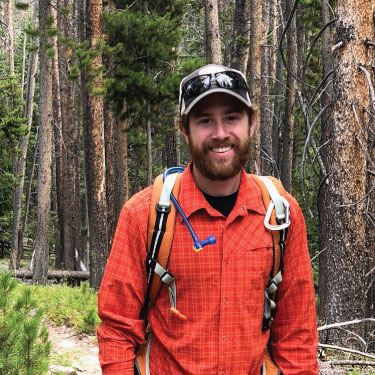 Scott Dunn
Community Programs Manager
Scott was born and raised in northeast Ohio where he developed his passion for the natural world exploring the woods and waters of the Great Lakes. Scott fell in love with the Rocky Mountains while living in Montana and after graduating with a B.S. in Environmental Science, knew that his career would focus on inspiring others to see the natural world as something worth protecting and enjoying. A Certified Interpretive Guide, Scott has worked as a front-line educator for the Cleveland Metroparks Zoo and as a Naturalist intern here at Walking Mountains.
As Community Programs Manager, Scott focuses on managing the Nature Discovery Center and Vail Nature Center and the programs that take place out of these locations. He also works to coordinate adult programming and helps to mentor and supervise the Naturalists team.
When not at work, you will likely find Scott outside riding his bicycle, hiking, camping or just enjoying some fresh air and maybe an ice cream cone or two.
Pronouns he, him, his