Energy Smart for My Business
0
Annual Electrical Savings
0
Annual CO2 Reduction (Metric Tons)
0
Annual Energy Savings in Eagle County
Step 1: Sign up for the Energy Smart Program
Click or give us a call at 970.827.9725 to sign up for the program and schedule your Energy Smart Business Energy Assessment.
Step 2: Get a Site Visit and Energy Advising
An energy site-visit is a free walk-through your business with one of our team members including: an examination of your business's lighting, a brief evaluation of your equipment and mechanical system, follow up materials to outline the first steps to start saving energy and complimentary energy coaching to develop a plan of action to fit your unique needs and long term goals.
Step 3: Take Action and Save
After our walk-through, we will help you implement the projects that fit your budget. Our energy coaches can assist with:
Finding qualified contractors
Securing the best rebates and incentives
Applying for loans and other financing
Tracking your savings as you make improvements
2020 Commercial Rebates
2020 Rebates for the Energy Smart Colorado business program at Walking Mountains Science Center:
How much we will rebate
In the Eagle Valley we will rebate commercial businesses up to $1,000/year, max 50% of any project costs (when also including any utility rebates).*
In the Town of Vail we will rebate commercial businesses up to $2,000/year, max 75% of any project costs (when also including any utility rebates).*
*An energy visit is required before a rebate will be processed. This requirement is waived if working with Impact Energy.
What we will rebate:
Benchmarking - start-up costs for Active Energy Management or Benchmarking
Custom Rebate - if Holy Cross Energy rebates it, then we will rebate it (this may include monthly prescriptive fees for Active Energy Management Programs)
LED - new LEDs that are DLC or Energy Star, and reduces lighting energy use by 30%
Mini-grants:
Beneficial Electrification - $5,000 when switching from gas/propane heating system or hot water heater to electric heat pump technology, must involve WMSC before project starts
Meet some of the program team members
Upcoming Sustainability Events
Actively Green Advanced Certifications
July 22 @ 9:00 am | Walking Mountains Science Center
Take the next step beyond your Actively Green certification to become a silver or gold level certified business. Been wanting to make some changes at your work and want to […]
More Info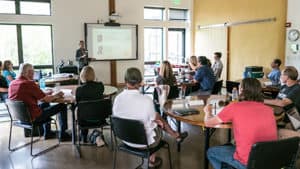 GSTC Sustainable Tourism Training Program
September 14 @ 9:00 am | Partner Locations
Learn about global trends in sustainable tourism and sustainability best practices. The Global Sustainable Tourism Council (GSTC) Sustainable Tourism Training Program (STTP) offers practical insights ...
More Info