The Sustainable Film Series 2016-2017
Provoking Thought. Creating Action.
The Sustainable Community Film Series raises awareness and encourages community dialogue about environmental issues afflicting our world through award-winning independent featured films. This year Walking Mountains will continue to provide films at two locations for the entire series. The 1st Tuesday of every month at Loaded Joes in Avon and 3rd Tuesday of every month at Dusty Boot in Eagle. Showings start at 6:30pm. No reservations required, just show up!
The Power of One Voice: May 2nd & 16th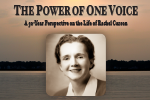 The Power of One Voice: A 50-Year Perspective on the Life of Rachel Carson is a groundbreaking documentary examining the life of Rachel Carson and the profound implications of her environmental work. Perfect for classrooms and community events, this 52-minute film features interviews with Rachel Carson's adopted son, Roger Christie, her biographer, Linda Lear, and other notable writers, scientists and advocates. By highlighting the power of Carson's voice, we hope to inspire others to add their voices to this essential conversation. Click here to view the trailer.
YERT: November 1st & 15th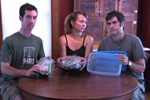 YERT (Your Environmental Road Trip): 50 States. 1 Year. Zero Garbage? Called to action by a planet in peril, three friends hit the road – traveling with hope, humor, and all of their garbage – to explore every state in America (the good, the bad…and the weird) in search of the extraordinary innovators and citizens who are tackling humanity's greatest environmental crises. As the YERT team layers outlandish eco-challenges onto their year-long quest, an unexpected turn of events pushes them to the brink in this award-winning docu-comedy. Featuring Bill McKibben, Wes Jackson, Will Allen, Janine Benyus, Joel Salatin, David Orr, and others. Click here to view the trailer.
Just Eat It: December 6th & 20th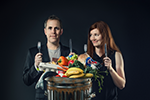 Filmmakers and food lovers Jen and Grant dive into the issue of waste from farm, through retail, all the way to the back of their own fridge. After catching a glimpse of the billions of dollars of good food that is tossed each year in North America, they pledge to quit grocery shopping cold turkey and survive only on foods that would otherwise be thrown away. In a nation where one in 10 people is food insecure, the images they capture of squandered groceries are both shocking and strangely compelling. But as Grant's addictive personality turns full tilt towards food rescue, the 'thrill of the find' has unexpected consequences. Click here to view the trailer.
A Plastic Ocean: January 3rd & 17th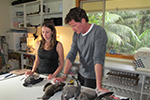 A PLASTIC OCEAN begins when journalist Craig Leeson, searching for the elusive blue whale, discovers plastic waste in what should be pristine ocean. In this adventure documentary, Craig teams up with free diver Tanya Streeter and an international team of scientists and researchers, and they travel to twenty locations around the world over the next four years to explore the fragile state of our oceans, uncover alarming truths about plastic pollution, and reveal working solutions that can be put into immediate effect. Click here to view the trailer.
The Burden & Nature's Orchestra: February 7th & 21st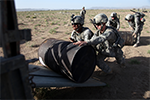 The Burden is the first documentary of its kind to tell the story of our dependence on fossil fuels as the greatest long-term national security threat confronting the U.S., and how the military is leading our transition away from oil. The troops are crying out to unleash us from the tether of fuel. Click here to view the trailer.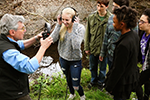 Nature's Orchestra follows Bernie Krause on a soundscape expedition in the Arctic National Wildlife Refuge. To record habitats that are neither disturbed nor destroyed by human activities, nature sound recordists have to travel far. Along with animal voices, including migratory bird songs, the barking of a fox, and a grizzly's sniff, the expedition records the melting of permafrost and other evidence of climate change. Click here to view the trailer.
The Messenger: March 7th & 21st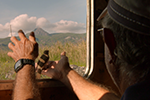 In ancient times humans looked to the flight and songs of birds to protect the future. Today once again, birds have something to tell us. Su Rynard's wide-ranging and contemplative documentary, The Messenger, explores our deep-seated connection to birds and warns that the uncertain fate of songbirds might mirror our own. Moving from the northern reaches of the Boreal Forest to the base of Mount Ararat in Turkey to the streets of New York, this film brings us face-to-face with a remarkable variety of human-made perils that have devastated thrushes, warblers, orioles, tanagers, grosbeaks and many other airborne music-makers. Click here to view the trailer.
Racing to Zero: April 4th & 18th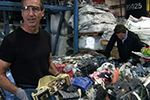 A quick-moving, upbeat documentary presenting new solutions to the global problem of waste. By simply substituting the word RESOURCE for the word GARBAGE, a culture can be transformed, and a new wealth of industries can emerge. Three years ago the mayor of San Francisco pledged to achieve zero waste by 2020. Racing to Zero tracks San Francisco's waste stream diversion tactics and presents innovative new solutions to waste. This film documents a surprising, engaging and inspiring race to zero. Click here to view the trailer.