Sustainable Food Map
A food production map is intended to demonstrate the food that is produced in a particular region. As the county seat, the Town of Eagle was used for the central point of Eagle County's Sustainable Food Map, which spans a 100-mile radius.
The food production map is intended to be an informational tool for consumers, farmers, chefs, restaurants, policymakers, planners, etc. When a community is able to easily identify its local food resources, it enables businesses, families, and individuals to make more sustainable food choices. Access to fresh food builds health and wellness while creating community & supporting the local economy. To learn more visit our Sustainable Food page.
Local producers listed on the map may or may not sell directly to consumers. This map is not final or conclusive; farmers and producers are constantly evolving, so be sure to contact a producer directly to confirm services.
This food producer map was compiled by a Healthy Communities Coalition working group, comprised of community members and organizations interested in exploring solutions to healthy food access and increasing local food and sustainability in the Eagle River Valley.
For more information or questions about the food producer map, contact Melissa Kirr at  melissak@walkingmountains.org.
Meet some of the program team members
Upcoming Sustainability Events
Actively Green Advanced Certifications
July 22 @ 9:00 am | Walking Mountains Science Center
Take the next step beyond your Actively Green certification to become a silver or gold level certified business. Been wanting to make some changes at your work and want to […]
More Info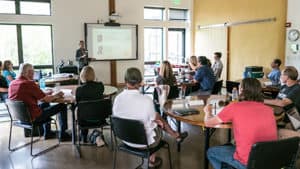 GSTC Sustainable Tourism Training Program
September 14 @ 9:00 am | Partner Locations
Learn about global trends in sustainable tourism and sustainability best practices. The Global Sustainable Tourism Council (GSTC) Sustainable Tourism Training Program (STTP) offers practical insights ...
More Info