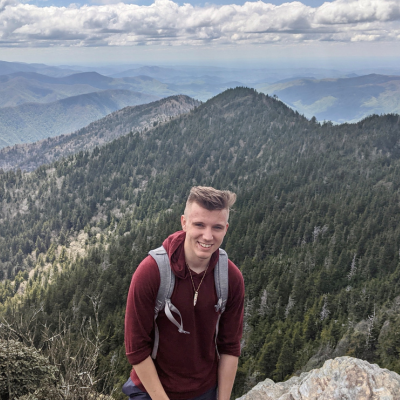 Kean Kearney
Naturalist
Kean (he/him) was born and raised in Milwaukee, Wisconsin, where he spent his summers visiting the Milwaukee County Zoo. These endless visits fostered a strong affinity for animals and the varied environments which they naturally inhabit. This passion grew to guide him through his educational studies as well, eventually graduating with a B.A. in Biology, focusing on wildlife behavior and conservation, and with minors in Environmental Studies and English from Macalester College in St. Paul, Minnesota.
Following his graduation in the spring of 2022, Kean worked as a mammal nursery intern at the Wildlife Rehabilitation Center of Minnesota. Working in one of the busiest wildlife hospitals in the nation provided him invaluable experience with wildlife handling and care.
During his college years, he discovered a true passion for hiking up in the boundary waters of Northern Minnesota and this passion extended out to numerous road trips to Utah, Nevada, Colorado, and Tennessee with friends. These experiences deepened his connection to the natural world and is a large part as to why he is so excited to help others from all sorts of different backgrounds discover a similar connection through Walking Mountains' mission.
Outside of work, Kean enjoys playing ice hockey, reading, board games, and exploring new environments.