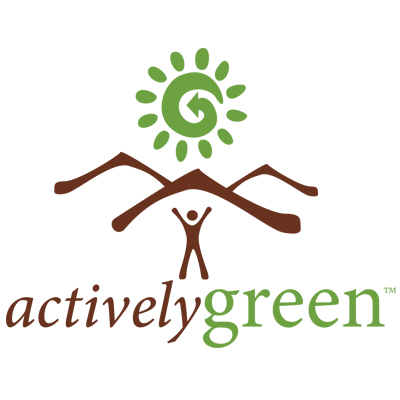 Actively Green Sustainable Business Training and Eco Certification
Registration Information: $100 for first business employee, $50 for additional employees. VVP members can sign up two employees free of charge for the training using the code VVPComp.  Please note your VVP membership will be verified. Town of Vail Businesses can use VailComp and Town of Avon Businesses can use AvonComp.
The Actively Green sustainable business training and certification program helps businesses:
• Save Money
• Engage Employees
• Be an Environmental Steward
• Expand Economic Development
• Increase Marketing Power & Attract More Customers
• Become a Community Leader
Businesses of any type can participate. Participants learn how to make sustainability actionable in day-to-day operations and create action plans to drive success. For a list of currently certified businesses please click here.
Incentives for 2017
Members of the Vail Valley Partnership can send two employees to the training sessions free of charge. Just use code VVPComp (VVP membership will be verified).
The first 10 businesses to sign up for the Actively Green certification in 2017 will receive 50% off.
Get INVOLVED Today!
It's simple. Actively Green Certified Businesses excel due to greater efficiencies and improved management processes. Find out how you can get started on the journey to sustainability and the path to certification today. Join this community-wide movement by participating in one of our upcoming trainings. Each training consists of two afternoon sessions.
To learn more about group trainings or to set up a one-on-one training Contact:
Kira Koppel | 970.827.9725×136 | kirak@walkingmountains.org
Why Attend an Actively Green Training?
The training curriculum was designed by the global nonprofit Sustainable Travel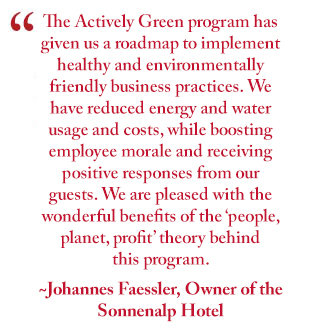 International and then tailored specifically for businesses
throughout the Eagle Valley. Sessions focus on fundamentals of business sustainability practices and certification criteria. Participants learn to use a Sustainability Management System to do an assessment of their current management practices and create an action plan.
Participants will:
• Develop a deeper understanding of sustainability best practices
• Learn new tools to implement sustainability in daily operations
• Complete a sustainable business self-assessment and action plan
• Prepare for the Actively Green Sustainable Business Certification
• Tap into a growing network of other sustainability professionals and community leaders
Background
The Actively Green Sustainable Business Training and Certification Program was launched as an innovative legacy initiative of the 2015 FIS Alpine World Ski Championships in Vail and Beaver Creek. Through a partnership with the global non-profit Sustainable Travel International the Eagle Valley has its own credible certification program and sustainability management system.
Founding Program Sponsors