Girls in Science
Girls in Science: Fostering confidence in the sciences through extracurricular, educational programming
Girls in Science is a free, afterschool, science enrichment program for girls in Eagle County School District elementary schools in 3rd through 5th grades who want to explore various science topics. 
The program was piloted in 2007 and is now offered in nine Eagle County public elementary schools: Avon Elementary, Brush Creek Elementary, Eagle Valley Elementary, Edwards Elementary, Gypsum Elementary, Homestake Peak Elementary, Red Hill Elementary, and Red Sandstone Elementary.
---
Why Be Part of Girls in Science?
The program was developed to address a national trend of girls falling academically behind in science classes by their middle and high school years. The core purpose of the program is to foster a love of learning in STEM subjects and inspire young women to take an interest in STEM fields of study in the future.
Sign Up for the 2022-2023 GiS School Year
---
Is Your Student in YouthPower365?
Girls in Science has made an agreement with YouthPower365 to skip PwrHrs the day of their GiS session. Students also have the option to take the PwrHrs bus home.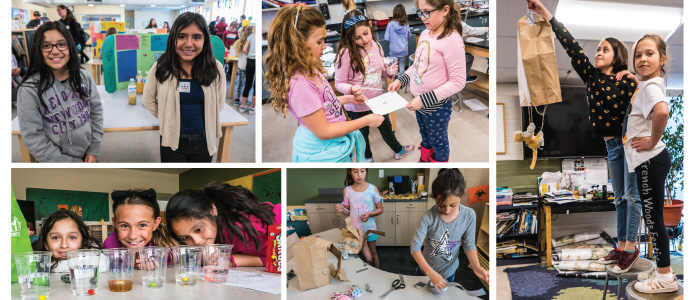 ---
For more information about Girls in Science, please contact Christy Belardo, Girls in Science Coordinator at christyb@walkingmountains.org or (970) 827-9725×234. 
The Girls in Science program is generously underwritten by, The Harvey Family Foundation, The Scrooby Foundation and the Xcel Energy Foundation.
This program is generously supported by: