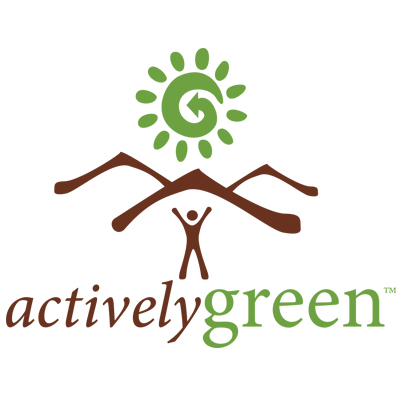 Actively Green Sustainable Business Training and Eco Certification
The Actively Green sustainable business training and certification program helps businesses:
• Save Money
• Engage Employees
• Be an Environmental Steward
• Expand Economic Development
• Increase Marketing Power & Attract More Customers
• Become a Community Leader
Businesses of any type can participate. Participants learn how to make sustainability actionable in day-to-day operations and create action plans to drive success.
Get INVOLVED Today! Register for a training below
It's simple. Actively Green Certified Businesses excel due to greater efficiency and improved management processes. Find out how you can get started on the journey to sustainability and the path to certification today. Join this community-wide movement by participating in one of our upcoming introductory trainings, sustainability coaching, or workshops.
To learn more about group trainings or to set up a one-on-one training contact:
Kira Koppel | 970.827.9725×136 | kirak@walkingmountains.org
Introduction to Actively Green: Sign up two of your employees free of charge for the introductory training. Register for your intro session below.
Looking to take an active role in your community? Want to save costs and support the environment? Concerned about the climate? Consider signing up for an Actively Green Introductory Training. This training session will give you and your business the knowledge and tools to incorporate sustainability into your workplace. Our 2-hour, introductory trainings will inform you and your colleagues of how incorporating sustainability can help with employee satisfaction and retention, efficient resource use and environmental protection, and your bottom line.
Workshops and Events: Click on the title of the event to register.
Free for all staff of certified businesses and Vail Valley Partnership members; Please note your certified status and/or VVP membership will be verified. For non-certified business, please contact Kira Koppel at kirak@walkingmountains.org, 970-827-9725 x136 before registering.
Put Climate Pollution in the Past – February 28
Have you ever wanted to participate in the Climate Action Plan or prevent climate pollution but didn't know how? This workshop will explore what you can do as a local business to develop your own plan to reduce greenhouse gas emissions in line with the Eagle County Climate Action Plan. Take an active role in reducing your impact on our local environment and learn how to effectively action plan!
Be Effective and Efficient with your Energy – May 9
Energy efficiency is one of those big-ticket phrases in sustainability. But what can it truly mean for your business? Beyond exchanging your lightbulbs for LEDs, this workshop will give you the tools you need to do a basic analysis of your utility bill and how to identify areas for improvement. Come join our energy professionals and learn how you can incorporate energy efficiency into your work.
Buying Green and Clean – July 25
Many of us try and purchase products that we know are good for us or good for the Earth. You might be surprised to find out there is a difference from one eco-label to the next. Attend this workshop to learn about greenwashing, how you can encourage your supplier to provide more sustainable and responsible products, and the true impact of what we buy.
Empowered and Engaged – September – stay tuned!
Employee engagement and sustainability go hand in hand. Learn how to use your sustainability efforts to reconnect with your employees and to discover what your staff is interested in. By holding regular Green Team meetings, you'll give your personnel a chance to connect across departments, make their voices heard, and get excited about projects going on at work. Attend this workshop to create strategies for employee engagement at your office.
Advanced Certification: Currently certified Actively Green members can register for a silver or gold level training below.
March 14, 2018 |  8:30 am-10:30 am | Stay tuned for registration details!
October 10, 2018 | 8:30 am-10:30 am | Stay tuned for registration details!
Incentives for 2018
New this year: monthly industry-specific workshops, trainings, and events will be offered to certified businesses and Vail Valley Partnership members free of charge.
The first 10 businesses to sign up for the Actively Green certification in 2018 will receive 50% off first year fees.
Why Attend an Actively Green Training?
The training curriculum was designed by the global nonprofit Sustainable Travel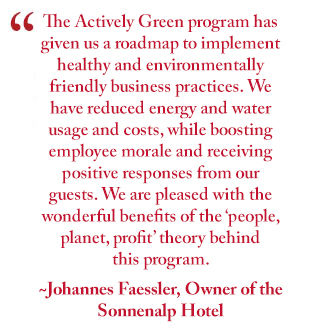 International and then tailored specifically for businesses
throughout the Eagle Valley. Sessions focus on fundamentals of business sustainability practices and certification criteria. Participants learn to use a Sustainability Management System to do an assessment of their current management practices and create an action plan.
Participants will:
• Develop a deeper understanding of sustainability best practices
• Learn new tools to implement sustainability in daily operations
• Complete a sustainable business self-assessment and action plan
• Prepare for the Actively Green Sustainable Business Certification
• Tap into a growing network of other sustainability professionals and community leaders
Background
The Actively Green Sustainable Business Training and Certification Program was launched as an innovative legacy initiative of the 2015 FIS Alpine World Ski Championships in Vail and Beaver Creek. Through a partnership with the global non-profit Sustainable Travel International the Eagle Valley has its own credible certification program and sustainability management system.
Founding Program Sponsors