Vail Wildflower Guide
Wildflowers are abundant in the Eagle Valley, whether hiking on Vail Mountain or one of the many trails throughout Eagle County you can't miss them.  Check out the guide below so you know what Wildflowers you're looking at when you hike!  Did you know we offer guided backcountry hikes where you can learn about the wildflowers and so much more?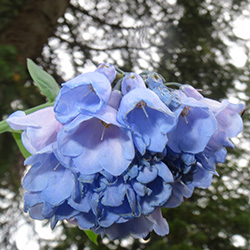 Bluebells- Mertensia sp.
Locally known as the caviar of the woods, due to the fishy taste of the leaves, bluebells can be found in moist to wet areas from the foothills to alpine areas. It is generally smaller than the Eastern species Virginia Bluebell, bluebells in the Central Rockies bloom from May through June and into July if conditions permits from the foothills (5,000ft) to alpine (11,000+ft) environments. Bluebells can also be referred to as Tall Lungwort or Chiming Bells. The leaves from bluebells can be used as a potherb but are generally too hairy for use in salads.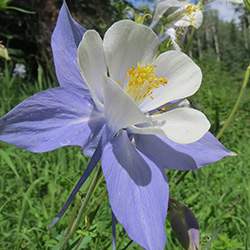 Columbine- Aquilegia sp.
The commonly recognizable Blue Colorado Columbine is the state flower of Colorado and can be found in scree (rock) fields growing from the foothills to the subalpine zone (10,000ft). The Yellow and Red Columbine are usually found at lower elevations and generally bloom earlier than the Colorado Columbine although both bloom between June and August. The nectar in the slender spurs of these flowers can only be reached by hummingbirds or long-tongued moths. The Columbine name comes from the Latin Columbina, or dove-like, because the five-petaled flowers were believed to resemble 5 doves drinking from the blossoms! Most parts of the Columbine are poisonous and can cause stomach irritation if ingested!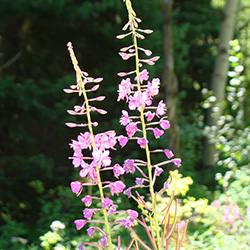 Fireweed- Epilbium angustifolium
This easily recognizable flower blooms in the late summer and rapidly colonizes disturbed areas such as those that recently saw fire activity. Look for it along roadcuts on Vail Mountain and anywhere recent construction may have occurred. The pink blooms are a favorite of honey bees and Fireweed honey is a high-end product you can find in local markets. Legend has it that fireweed was the first plant to rebound in London after the bombing campaigns during World War II. Many teachers and students lament the blooms because it is said that once the blooms make their way all the way to the tip of the stalk, it is time for school to start!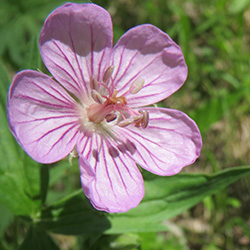 Geranium- Geranium sp.
One of the more common species to be found in the valley, Geranium plants can be identified by the deeply lobed leaves (sometimes resembling oak leaves), and small, 3-5cm wide, flowers blooming between May and August. Found in drier areas, Geranium roots have been used for centuries as a coagulant to stop bleeding or to treat dry and chapped lips. The genus Geranium¸ is derived from the Greek, geranos, or stork because the long and slender seed pods are thought to resemble stork's bills.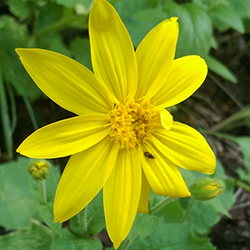 Heart-Leaved Arnica- Arnica cordifolia
Easily mistaken for a sunflower, Arnica can be identified by the bright yellow blooms between June and August and opposite leaves that resemble hearts. All Arnica's (and there are many species throughout the world) are poisonous when ingested yet the roots and leaves have been used for generations to make salves to relieve minor aches and pains. Extracts of the flowers were once even believed to make hair grow! Look for them from the foothills to the alpine zone in regions where they'll receive plenty of sun.
Scarlet Gilia- Ipomopsis aggregata
These red blooms can be seen from June to August on leafless slender stems and are also known as fairy trumpet or skyrocket. Scarlet Gilia are pollinated by humming birds. Their beaks become covered in pollen while eating nectar from the flowering tubes. Generally found in drier environments, Scarlet Gilia have a very skunky odor when crushed and can be used as a bug repellent. Mule deer common to the area love to snack on these flowers so keep your eyes open!
Meet some of the program team members