Recycling and Waste Diversion
Recycling and waste diversion is the easiest thing we, as individuals, can do to help our environment. It's accessible to everyone, it saves energy, and reduces greenhouse gas emissions. Although recycling is not the answer, it's a proven step to the solution! We can make more radical changes by reducing and reusing, and educating ourselves and the community on waste management.
The nationwide average for Material Solid Waste (MSW) recycling is 34%. Colorado is well below that at 12%.
Eagle County recycles at more than twice the state-wide average, hitting 26% waste diversion in 2018. However, this still puts us well behind the nationwide rate with almost 10% more of our waste going to the landfill than the rest of the country's average MSW diversion to recycling or compost facilities.
Meet some of the program team members
Upcoming Sustainability Events
Actively Green Advanced Certifications
July 22 @ 9:00 am | Walking Mountains Science Center
Take the next step beyond your Actively Green certification to become a silver or gold level certified business. Been wanting to make some changes at your work and want to […]
More Info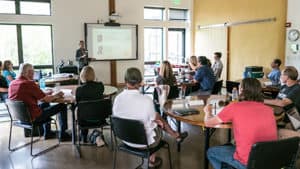 GSTC Sustainable Tourism Training Program
September 14 @ 9:00 am | Partner Locations
Learn about global trends in sustainable tourism and sustainability best practices. The Global Sustainable Tourism Council (GSTC) Sustainable Tourism Training Program (STTP) offers practical insights ...
More Info