The Villa Family Story of Energy Savings

Energy Smart Colorado is a program that assists residents and business owners in Pitkin, Garfield, Gunnison, Summit, Eagle, and Lake Counties in improving the comfort, safety and efficiency of their homes and/or businesses.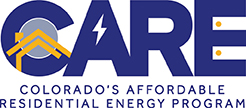 Colorado's Affordable Residential Energy program (CARE) is committed to increasing comfort, creating a safer living environment, and lowering energy bills for income-qualified Coloradans. CARE leverages EOC funding, utility rebates, and local resources to provide FREE energy efficiency services to income qualified participants like appliance upgrades and air sealing which help reduce energy bills.
CLICK HERE to find out if you qualify. | CLICK HERE to fill out the application.
Want to save money, stay comfortable in the winter, and make the environmentally responsible choice? Let the Energy Smart Colorado team at Walking Mountains Science Center help you become more energy efficient!
Here is what we can offer to the Vail Valley: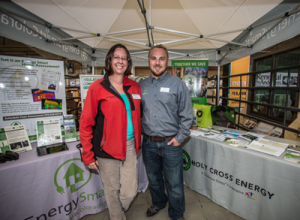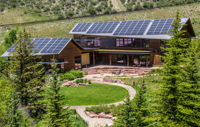 > Home Energy Audits
> Free Energy Advising
> Free Radon Test Kits
> Access to local Qualified Contractors
> Free Energy Site-visits for Businesses
> Access to Rebates and Financing
> Workshops and Training
Contact Us!
Energy Smart at Walking Mountains: 970.328.8777 | eagle@energysmartcolorado.com
Or visit the resource center for Eagle County at 318 Walking Mountains Lane, Avon, CO, 81620
Sign up for our monthly newsletter for the latest energy tips, news and updates from the Energy Smart team at Walking Mountains Science Center:


The Energy Smart program in Eagle County is funded in part by Eagle County Eco-Build funds which are fees for energy building code mitigation collected in unincorporated Eagle County. Since its inception, over $1.2 million in community grants, solar rebates, and energy efficiency rebates have been distributed into our community. We also work in partnership with and are generously supported by Holy Cross Energy.
Program Results 2011-2016
> Home Energy Assessments: 1,265
> Home Energy Improvements (Retrofits): 567
> Annual Electrical Savings: 1,167,438 kWH
> Annual Gas Savings: 191,253 Therms
> Annual Energy Savings: $197,247
> Annual CO2 Reduction (Metric Tons): 4,977
HOME REBATE OFFER:
After home energy assessment is complete, homeowners unlock access to our $500 Energy Smart rebate for measures such as:
> Insulation and Air Sealing
> LED Lighting
> High Efficiency Furnaces/Boilers
> An additional $500 for completing a Solar PV project
> Click here or our rebate brochure below to learn more!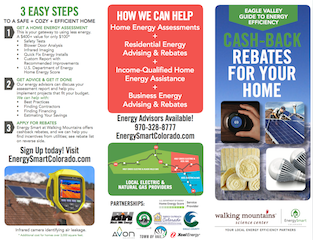 BUSINESS REBATE OFFER (Effective 3/29/18):
50% of project cost up to $1,000. (not to exceed 50% of project cost when combined with utility rebates). Additionally, we offer 50% up to $1,000 for an energy assessment for your business (ASHRAE Level II or Higher).
> Lighting
> HVAC
> Refrigeration
> Insulation & Air Sealing
> Solar Photovoltaic
> Click here for more info
Energy Smart Colorado Newsletter Archive:
"It's comforting knowing we've made a responsible decision, not only for our home and family, but also for the environment."

"This program gave us the opportunity to improve the quality and value of our property as well as the efficiency of our heating system."

"When you think about the life expectancy of the LED bulb being 25,000 hours instead of 2,000 for a normal incandescent, and a 1/6 of the energy use, the savings add up quickly." 

Russell White, Moe's Original BBQ
"We'd highly recommend the Energy Smart Program. We added attic insulation & sealed our windows and doors, both cost effective solutions to improve the comfort of our home. The cost savings on our energy bills was an added bonus."

Chris & Stacey Romer, Homeowners